This pandemic had been hard on us all. Some have lost loved ones and friends.
Others have lost their business. The business they built or were fortunate enough to acquire and worked steadily towards success.
In fact, we have lost 328,000 souls, and 97000 small businesses have been shuttered. Permanently.
Between the shutdowns, losses of principles, management and employees, and the loss of revenue from the rising unemployment rate, many have taken hits that diminished or crippled their business into closure.
But not all business sectors. Some industries found themselves resilient in the face of adversity.
Some businesses found themselves still open for business while surrounded by others forced to close, by getting the tag of "essential business". And like a shrimping boat named "Bubba", they found resilience when it was needed most, and soared to the top. And those who hitched themselves to this star found themselves rising above the rest.
Cannabis was a major standout of the industries that found that resilience.
Throughout 2020, cannabis purchases have not only maintained their current levels, but have risen overall, in every legal adult use and medical state. For example, Nevada saw a 25% increase in sales, Massachusetts saw 56% and Colorado, who thought they had a market near saturation, saw a whopping 72%.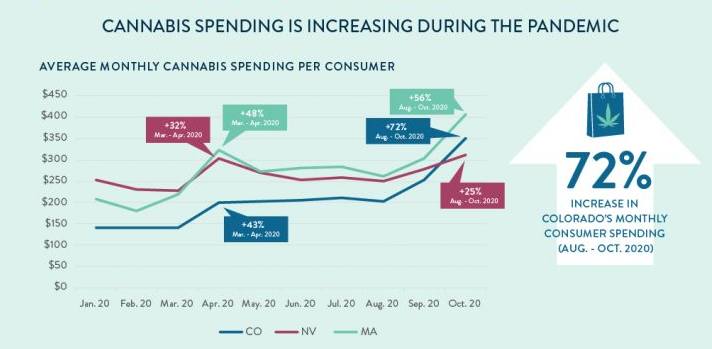 But one of the most interesting statistics that came out of the terrible year of 2020, was not just that people were spending more. It was not a switch to more expensive products.
Cannabis consumption is increasing. In a nationwide poll from September of 2020, current cannabis users from rare to occasional to regular users increased consumption. In fact, 42% increased consumption, with only 16% decreasing. The rest remained steady. Note: current cannabis consumers are defined in this study as those who consume at least annually.

And this brings up a major issue. We are heading towards a new normal, with restaurants and other service and entertainment businesses opening back to a new world. As vaccinations rise and the viral load in the air decreasing, those users will be able to get out of their homes and start to enjoy socializing again.
But in many states, it is still illegal to consume outside of your home. Some folks cannot even consume in their rented apartment or house if landlords object.
But in select states, consumption lounges are now or will soon be available for folks to enjoy.
A Bud's Place franchise will become a destination place. A logical extension of the trends that began during the darkness of the pandemic. They will be specially designed to be safe not only legally, but from biological threats as well.
This is an exciting opportunity. A beacon of light in a world that has seemed dark.
Contact a Bud's Place representative to find out how you can find resilience, success and certainty.
The new normal is coming, and you can be a leader in it.